Brilliant Interview Answers for Wells Fargo
By Former Wells Fargo  Interviewer Jacob Gates
Designed for people who apply for positions of personal bankers, tellers, finance analysts, phone bankers, service managers, mortgage consultants, consumer loan underwriters, low-level and mid-level corporate positions and other job openings at Wells Fargo.
In a few hours from now, you will be ready to ace your interview at Wells Fargo
The number of job applicants at Wells Fargo exceeds the number of job openings in a ratio of 15:1!
I interviewed people at Wells Fargo for more than three years. Let me show you how to be the 1 of 15 who gets the job. 
You can win a heart of every interviewer at Wells Fargo–with the help of my interview answers and strategies.
Learn how to ace your interview and start your career at this great bank!

I guarantee you will:
Interview at Wells Fargo with confidence, without any job interview stress.
Make a best possible impression
Get rid of your fear from interviewing for good.
Have your answers ready to all difficult interview questions.
Flourish in the tricky role-play that scares most job seekers.
Enjoy a great feeling of being ready to succeed, and get a job at Wells Fargo.
What the others think:
I am not really the most outgoing person and I struggle in communication with the others. However, your guide helped me to calm down and prepare for my interview, especially for the role play. I was offered a position of a teller immediately. Thank you Jacob!
Annetta Mayers, Dallas
It's a funny feeling when other people look at you with envy. It happened to me in a group interview at Wells Fargo. Other job applicants just could not understand how it was possible that I had such a perfect answer ready to every single question. Apparently I was the only one with your e-book :).
Aron Robson, Sacramento
I was looking for an advice on the pages of Yahoo Answers prior to my interview at Wells Fargo. Jacob contacted me there and offered me a free review of his eBook called "Wells Fargo Interview Guide" (before the product launch). Two weeks later, I started to work at Wells Fargo! Jacob's eBook helped me to deal with all behavioral question and with the role-play. I can strongly recommend this book to everyone who wants to get a job at Wells Fargo!
Julieta Smith, Houston
From: Jacob Gates
Cambridge, Massachusetts
Friday, 3rd February 2017
Dear Job Seeker,
I worked as a corporate interviewer at Wells Fargo for more than three years, and I interviewed hundreds of people. Let me tell you something:
Interviews at Wells Fargo belong to the most difficult interviews in the United States. Job applicants are tested with a set of screening, technical, and behavioral questions. A cherry on a cake, role-play, waits for everyone at the end of their interview.

I have seen many people failed. But…
They failed not because they lacked the qualification.
They failed not because they were stupid.
They failed not because they would not handle the job…
They failed, simply because they had no idea about how to sell themselves in an interview, and what the interviewers wanted to hear from them.
How could they succeed? They were graduates and postgraduates, they were technicians, in all good means. But they were not good in the art of acing an interview. That was not their field of expertise. Nobody told them what to do, what really matters, what questions they should expect, and what answers they should choose. They failed. . . .
But times have changed, for both of us. I do not work for Wells Fargo anymore–I decided to make a career move. Currently I teach people like you, and advise them on how to succeed in an interview. I also wrote an eBook, called Wells Fargo Interview Guide, which will help every job seeker to ace their interview at this amazing bank.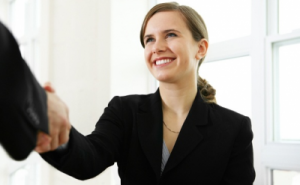 But after all, who cares about me, or about all the other job seekers? The only thing that matters is if you get a job at Wells Fargo. I will try to help you with it.
I am going to show you brilliant answers to twenty most common interview questions at Wells Fargo. It doesn't matter if you are a fresh graduate, or a manager with ten years of experience. It doesn't matter if you apply for a position of a teller, analyst, or banking center manager. There is a good answer for everyone!

I am going to demonstrate (on practical examples) how to flourish in role-play, the part of an interview that scares most job seekers.
I will show you how to make a perfect impression on the HR managers.
To summarize it, I will show you how to ace your Wells Fargo interview from start to finish! 
But let's see. Maybe you are already prepared. Can you answer the following interview questions brilliantly?

Why do you want to work at Wells Fargo?

Have you ever worked at a bank before?
Give an example of you dealing with an irate customer and what you did to fix the problem?
What would you do if you were 500 dollars short when preparing to leave?
Give an example of a time you made a point to go above and beyond with customer service?
It is not easy, is it? … It can be easy–with my Wells Fargo Interview Guide!
See the short sample from the e-book below:
(If you can't see the sample properly on your device, please click here to download it as .PDF file.)

This was just one question. A small fraction of 38 pages long, highly specialized e-book for job seekers at Wells Fargo, in which you'll find:
The description of the real interview process at Wells Fargo, so you will see behind the scenes and understand what actually matters.
Guide on how to present yourself in screening, behavioral and role play part of your interview.
Common screening interview questions and answers.
How to succeed in a group interview at Wells Fargo.
Three key principles you need to learn before answering behavioral questions at Wells Fargo.

List of things you should bring to the interview with you.
Guide on how to dress for your interview.
How to use your non-verbal communication to present yourself as an ideal candidate for the job.
The perspective of Wells Fargo managers, and how to use the knowledge of this perspective to your advantage in an interview
Brilliant answers to 15 most common behavioral and technical interview questions at Wells Fargo.

Practical example of a role-play, with solutions.

Guide on how to follow-up your interview at Wells Fargo
Some interviewing tricks you can use in any bank
….
 All information from someone who has interviewed for Wells Fargo for more than three years. Can you imagine anything better to help you to get a job? I can't…
Wells Fargo Interview Guide Details:
Format: Adobe Instant Download (.pdf format, you can read it on any computer, tablet, smart phone, or kindle)
Updated for 2017!

Latest Update:

7th January 2017

Average customer rating:
(148 reviews)

But Wait! That's Not All!
You'll get the following bonuses for FREE with your purchase!
15 Most Common Interview Questions and Answers – FREE gift (e-book)
To help you (or your loved ones) to succeed in any interview, in any company.
Learn how to answer the following interview questions:
Can you tell me something about yourself?
Why did you leave your last job?
Why should we hire you?
What are your strengths?
What are your weaknesses?
And 10 other commonly used interview questions
This priceless guide will help you and your loved ones in any interview, for many more years to come.

I Will Get a Job! FREE gift (audio recording)
A popular digital recording from my friend, recruitment consultant from Europe.
Teaches you everything you need to know to win the heart of any interviewer.

Perfectly applicable at Wells Fargo.
Buy Wells Fargo Interview Guide today and get these two priceless job interview success products for FREE. It can't get any better than this, can it?
Wells Fargo interview does not have to be stressful, or difficult. You can be the one who interviews with confidence and gives brilliant answers to all interview questions. Download the guide today and ace your interview!
I was the oldest one in the room, but still, I outclassed everyone else there and aced my group interview at Wells Fargo. Role-play was a piece of cake as well, with the help of your book. Thank you so much for helping me overcome the obstacles. Sending a greetings from Wells Fargo, Carolina.  
Jefferson Johnes

I had an interview for a teller position at Wells Fargo, and one week later I had one for the same position at Bank of America. I was offered a job at both banks. You helped me to gain new confidence and get rid of fear from interviewing. This was definitely the best ever investment in my career.
Shawna Stripe, New York City
General interview preparation is not sufficient.
You need to prepare especially for Wells Fargo interview.
With this e-book:
You will be ready to impress interviewers at Wells Fargo, telling them exactly what they want to hear.
You'll find the confidence in yourself you never knew you had.
You will be the one who gets the call after the interview.
Risk Free 60 days Money Back Guarantee
If you use my guide and bonuses, and somehow don't get the job at Wells Fargo in 60 days, feel free to ask for a full refund.
That's how confident I am about the results you'll achieve with my interview guide.
But let me take this guarantee one step further. If you don't like the Wells Fargo Interview Guide for ANY reason, or no reason at all, just let me know within 60 days and I'll give you a full refund.
Just drop me a message to my personal email address gates[at]jacob-gates[dot]com with your name and transaction details.
Test it out for yourself. Try my professional Wells Fargo Interview Guide with bonuses in your next interview. Once you've tried it, I'm confident you'll keep it forever and will be more than happy about your purchase.
Sincerely,
Jacob Gates
P.S. Feel free to send me an email to my personal mailbox if you are still not sure how this guide will help you to get a job at Wells Fargo. I try my best to answer all messages within twelve hours.
P.P.S. I am still in touch with my friends and former colleagues at Wells Fargo, in order to keep the e-book up to date.