Brilliant Interview Answers for Walmart
By former Walmart manager and interviewer Jacob Gates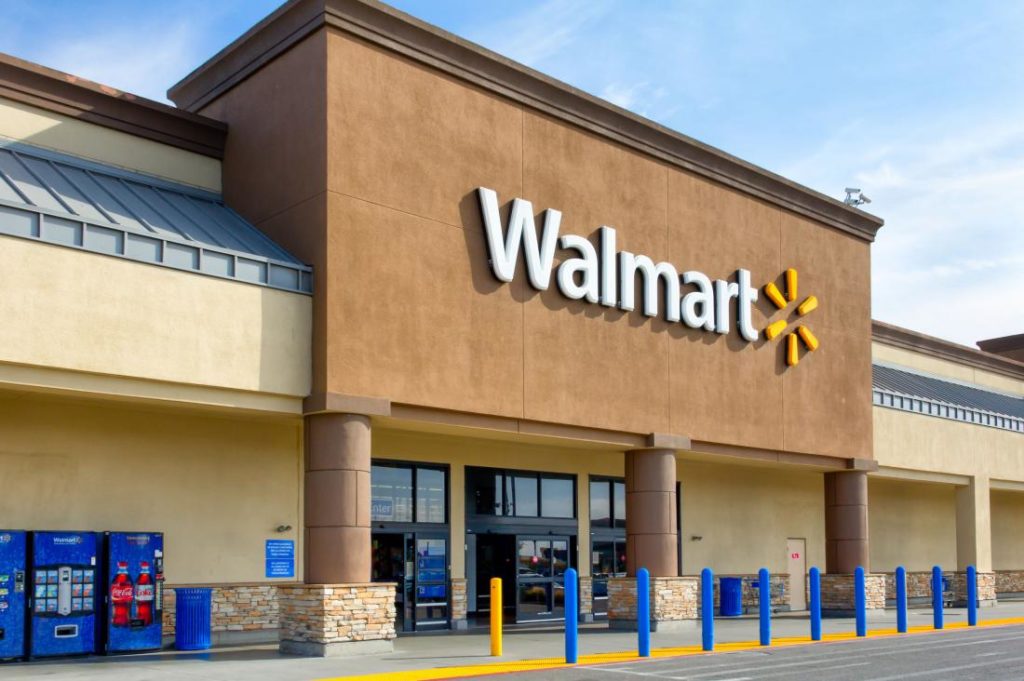 Walmart managers use nearly identical questions in every interview. It does not matter if they interview you for a position of a security guard, customer service assistant, or shift manager. The questions will be the same.I have made a list of most common Walmart interview questions, based on my interviewing experience at Walmart, and the most updated information I could get from my former colleagues. We will have a look at the following questions:
Why do you want to work at Walmart?
Why do you think you could be a good cashier (customer assistant, store manager, etc.) at Walmart?
What was the most difficult situation you have encountered, and the simplest way you used to solve the situation?
When in your last job did you go over and above for the customer?
If another co-worker were gossiping about someone else something which was untrue, how would you react?
If a customer accused you of bad service, what would you do?
If a supervisor asked you to change the way your job was performed even though you knew you were doing it right, what would you do?
Can you define the value you can bring to Walmart as an employee?
What would you do if you had a disagreement with your manager?
What can you improve about Walmart?
This job is repetitive. What would motivate you to do it well every day?
Tell me about a time when you found it hard to be courteous. How did you handle it? Why did you handle it that way? If it happened again, would you handle the situation differently?
Explain a time when you had to meet a tight deadline. What was the reason for the deadline? What was the quality of work?
Explain a time when you were busy and needed to prioritize the tasks ahead of you.
What are your strengths and weaknesses?
There are rules for everything we do. Tell me about a time when you thought it was important to follow a rule. Why was it important to follow this rule and how did following this rule affect the others?
How long do you want to work for Walmart?
Describe a time when you have effectively resolved another person's request. What was the situation and what kinds of information did you gather to help assist in resolving this request?
When are you able to start the job?
Do you have any questions?
Question 1.: Why do you want to work at Walmart?
Hint: Try to focus on your personal preferences to the brand of Walmart, their vision, values, or product portfolio. You should simply talk about something that distinguishes Walmart from their competitors in your eyes, something their hiring managers should be proud of.
Alternatively you can say you believe to be the right match for the job, that the working environment at WM suits you, at least according to your observations as a customer of the retailer.
Good Answers:
I like the brand of Walmart, and the vision of the company. I prefer to do my shopping here. The way the customer assistants and cashiers approach us in a store is better then in other stores. I would love to become one of these assistants.   
The way you work here, as well as the way the store is organized, resonates strongly with my values and beliefs. What is more, the store is located near my apartment, so it would be easy for me getting to work.
Question 2.: Why do you think you could be a good cashier (customer assistant, store manager, etc.) at Walmart?
Hint: Try to focus on strengths that are relevant for the job you apply for at Walmart. Stress your motivation to work hard, and to learn new things.
If you had similar job in the past, say that past employers and colleagues were satisfied with your work, and therefore you believe to do it well.
Good answers:
With communication skills and past cash handling experience, and with my understanding for the values you try to follow here at Walmart, I am sure I can be a great customer assistant.
I had the same job in the past, and I felt good doing it. My colleagues and superiors were satisfied with my work. I have no reason to doubt my ability to become a great assistant manager here at Walmart.
Question 3.: What was the most difficult situation you have encountered, and the simplest way you used to address and solve it?
Hint: If it is your first job application, you can talk about difficult situation from the college, or from personal life. If you had a job in retail before, it is better to speak about work related situation.
Anyway, your attitude matters, not the particular situation you talk about. Speak calmly, and be positive about life and the challenges it throws on you. Do not judge anyone and do not forget that customers are always right, if you decide to speak about a problem you had with a customer.
Try to stress the lesson you learned when facing a difficult situation.
Good answers:
A drunken customer came to the petrol station where I have worked before. They started to attack my colleague verbally. She didn't know what to do. I used my communication skills to politely address the offender. I sold them what they wanted and they left the store. The situation showed me that it is important to stay calm and not go into arguments with the customers.
The state exams were difficult and stressful. I wasn't the best companion at that time, as I was nervous and angry when talking to people. Eventually I made a study plan for each day, from morning to evening, and I followed the plan to the point. I passed the exams and learned how important it is to organize your work and make a daily plan.
Question 4.: When in your last job did you go over and above for the customer?
Hint: As a great applicant for any customer service/sales job in retail, you should always go above and beyond for the customers. If you have no previous experience, say what you would do to go above and beyond with your service.
Your tone of voice is important when answering this question, or a similar one. You should speak with love and joy about every situation when you had to do (or wanted to do) something extraordinary for the customer. Interviewers should get the feeling that you enjoy doing something extra for the people you interact with in your job.
Good answers

I consider it my duty to always do my best for every customer. For example in my last job in retail, I called a friend, expert in the area of electronics, to ask for an advice when a customer asked me a specific question about a computer we were selling. The customer really appreciated what I did and I was happy to help them. Such moments make me proud of my work.
I always try to exceed the expectations of my customers. That's the best way to motivate them to come back, and do business with us again. It also helps me to feel satisfaction in job. In my last job I visited a customer at home outside of our working hours, just to explain him and his wife the advantages of our mortgage plan, comparing it to the plans of other financial institutions. They could not make it in the hours, so I went to visit them.
I have never gone above and beyond with customer service, as this is my first job application. However, I understand the importance of customer satisfaction in retail, and I will always look for opportunities to deliver exceptional service. I believe that with every passing week in job I will understand better what works with the customers, and soon enough it will become easy for me to exceed their expectations.
Question 5.: If another co-worker were gossiping about someone else something which was untrue, how would you react?
Hint: Managers at Walmart do not want you to solve the problems of other employees. They want to hear that you focus on your job, and that you do not care about gossips at the workplace. They also prefer to hire employees who do not gossip.
Good answers:
I would simply answer it was not true and continue working. Gossips will always be present, and we have to accept them. However, I need to focus on my own job, and have no time to think about the gossips of the others.
It is their opinion. I always try to have good relationship with my colleagues, and do not care about the gossips. I try to be friendly to everyone, but if other people can not get along each other, it is their problem, and I can do nothing about that.
From: Jacob Gates
Cambridge, Massachusetts
Friday, 17th November 2017
Dear Job Seeker,
Did you like the answers? I hope they helped you to understand what the interviewers at Walmart want to hear from you, and how to make a good impression on them, and get a job at Walmart.
What you have just read was just a small fraction of the materials I have prepared for you, to help you ace your interview at Walmart.
I will show you:
Brilliant answers to twenty most common interview questions at Walmart.

Tips for virtual interview, phone interview and face to face interview.
Detailed guide on how to act in an interview and impress the interviewers.
Interview follow up advice.
Walmart interview secrets, shared nowhere else.
… and much more….

You will find it in my eBook, Walmart Interview Guide, which I designed for people who apply for positions of cashiers, stockers, unloaders, pharmacy managers, sales associates, customer service assistants, department managers, assistant managers and similar job openings at Walmart. Have a look at it below: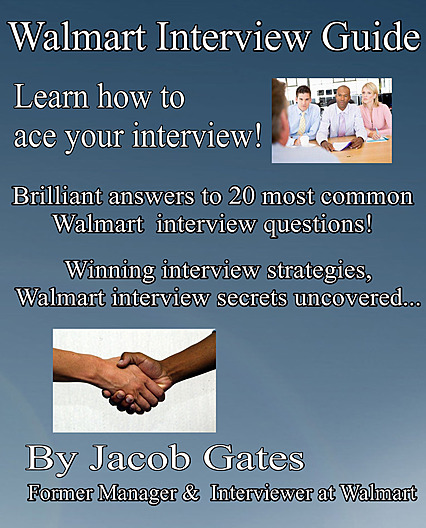 Walmart Interview Guide Details:
Format: Adobe Instant Download (.pdf format, you can read it on your computer, tablet, kindle, or smart phone, or you can print it)

(99 reviews)
Sixty days risk-free money back guarantee

See yourself what the fellow Walmart employees think:
I had to answer twelve interview questions at Walmart. Ten questions were analyzed and answered in your guide. The interviewers were impressed with my answers and I didn't lose my composure, which had happened to me before in my interviews. I got a wonderful job of customer service assistant in a local store. I would hardly make it without your guide.
Andrea Pulman, New York

Dear Jacob, you're the man! I wish I could shake your hand! It's been a real challenge for me to get any decent job here in Texas. Walmart was my only option, really. With your help, I was offered a full time job contract with them.

Jeremy Hughins, Fort Worth

Local Walmart store is situated just five minutes walking distance from my apartment. When I saw a job opening for a store manager, I told myself: "Mark, you have to get this job!" I decided to do everything I could to succeed. Purchasing Walmart Interview Guide was one of the most important pieces of the puzzle. Answers to interview questions from your guide were excellent, and your suggestions really helped me to understand what they expected from me in an interview.
Mark Boston, Ontario, Canada
A strange interview?

I've interviewed job applicants at Walmart for more than two years, and I often heard people saying:
Interviews at Walmart are not conducted in a professional manner.
I met all the requirements but someone else got the job.
I am not going to advocate Walmart managers. Nor I will tell you why we chose "someone else" the other day. "Someone else" is not important today. The only thing that matters is if you get a job in your interview at Walmart. I will try to help.

No matter how bad you think your interview performance is at the moment. I guarantee you will quickly learn how to impress the interviewers with brilliant answers to their questions.
I have been there. I've led many interviews at Walmart. I hired cashiers, I recruited store managers.. Now you can benefit from my knowledge. I will guide you through the interview process, step by step, question after question.
Ready to take the first step towards a coveted job contract?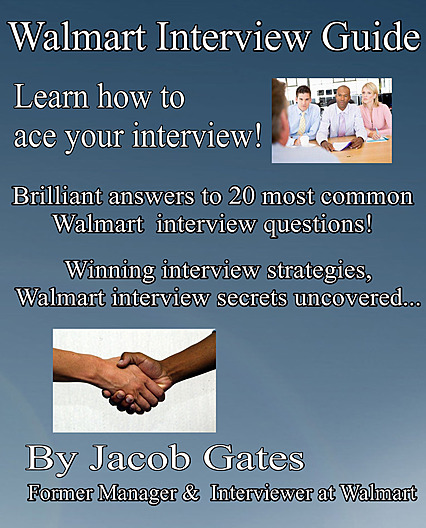 Format: Adobe Instant Download (.pdf format, you can read it on your computer, tablet, kindle, or smart phone, or you can print it)

(99 reviews)
60 days risk-free money back guarantee

But wait, that's not all!
You will get the following bonuses for FREE with your purchase!
15 Most Common Interview Questions and Answers – FREE gift (eBook)
To help you (or your loved ones) to succeed in any interview in any company.
Learn how to answer the following interview questions:
Why did you leave your last job?
Why should we hire you?
What are your salary expectations?
What are your strengths?
Why do you want to work for us?
What are your weaknesses?
And other common interview questions
This priceless guide will help you and your loved ones in any interview, for many more years to come.
I Will Get a Job! – FREE gift (audio recording)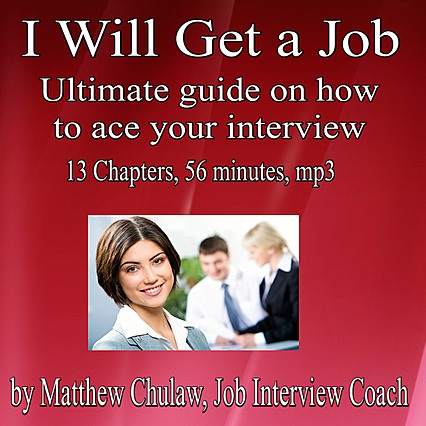 A popular digital recording from my friend, recruitment consultant from Europe.
Teaches you everything you need to know to win a heart of your interviewers.

Perfectly applicable at Walmart.
56 minutes long, mp3, instant download.
Buy Walmart Interview Guide today and get these two priceless interview success products for FREE. It can't get any better than this, can it?
Interview at Walmart does not have to be stressful, or difficult. You can be the one who interviews with confidence. Download the guide today, learn how to answer each question, ace your interview, and get a job you want to have.
I can't thank you enough for your Walmart Interview Guide. I struggled to get a job for a long time, mostly because I am a shy person, and I could not really express myself properly in the interviews. However, following the simple tips from your interview guide, and learning great answers to most common interview questions, I was confident, I could talk, and I got a job of a customer assistant.
Monica Curens, Cleveland
General interview preparation is not sufficient. You need to prepare especially for Walmart interview.
With this eBook:
You will impress the interviewers at Walmart, telling them exactly what they want to hear.
You will respond to all tough interview questions with brilliant answers.
You'll find the confidence in yourself you never knew you had.
You will be the one who gets the call after the interview.
Risk Free 60 days Money Back Guarantee
If you use my guide and somehow don't get the job at Walmart in 60 days, I'll give you an immediate 100% refund of your purchase price.
That's how confident I am about the results my product will bring to you.
But let me take this guarantee one step further. If you don't like the Walmart Interview Guide for ANY reason, or no reason at all, just let me know within 60 days and I'll give you a full refund.
Just drop me a message to my personal email address gates[at]jacob-gates[dot]com with your name and transaction details. No questions asked, just a full refund.
Test it out for yourself. Try my professional Walmart Interview Guide in your next interview. Once you've tried it, I'm confident you'll keep it forever and will be more than happy about your purchase. But if you are not happy, all you have to do is to ask for a refund. There's really nothing you can lose with your purchase.
Sincerely,
Jacob Gates
P.S. Feel free to send me an email to gates[at]jacob-gates[dot]com, if you are still not sure how this guide will help you to get a job at Walmart. I try my best to answer all messages within twelve hours.
P.P.S. I am still in touch with my friends and former colleagues at Walmart, in order to keep the book up to date.